An interview with Mike Campbell became a reality through his birthday present guitar. It is very difficult to put our feeling into words, but we felt like we were climbing to heaven through a series of incredibly pleasant surprises. After years of maintaining a fan site, we feel that we got a present for ourselves. We wish that TP&HB fans will be excited to read this interview.
We focused our questions to five topics:
1) The Live Anthology  2) New album/tour  3) Guitars  4) In-depths  5) Miscellaneous
< Introduction >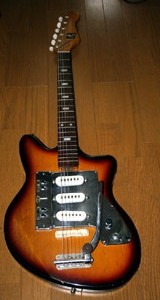 HBJP: Happy birthday Mike! We are so glad to hear that you LOVED the birthday present guitar.
At first, we would like to know was the Guyatone similar to your first guitar? What were your impressions and memories to the guitar?
Mike: Thank you. It is almost identical to the one my Dad bought for me. The only difference is mine only had two pickups. Playing this one brought back a lot of memories. This is the instrument I learned to play on and used for several years performing. It sounds remarkably good compared to more expensive guitars that I now own. It is similar to a Fender Jaguar.
1 The Live Anthology
What challenges did you face when selecting the songs for "The Live Anthology"? How do you want your fans to enjoy this album?
The biggest challenge was listening to hours of performances over the 30 years to find ones that were significant; then, narrowing them down to a final set that represented the best of the band. Many of the analog recordings had to be "baked" and transferred to digital format before we could even listen to them. We found that if the vocal was really good then the band was invariably good too, so we listened to the vocal first as a focus.
What is your favorite track on "The Live Anthology"?
"Lost Without You" … it was unrehearsed and totally spontaneous…caught a very real emotional performance.
What kind of special emotions occurred when you listened to vintage recordings for "The Live Anthology"? Did you have heartbreaking moments on tracks with Howie and/or Stan?
Hearing Howie was particularly heart-wrenching…and we were reminded how much we miss his friendship and talent. We were pleased to hear our original drummer, Stan, sounding so good on the early stuff. He was always a great source of energy and inspiration.
In general, we were surprised how good the band played in the early years. Though we have grown tremendously over the years, our early stuff holds up quite well.
I (Mayu) was personally delighted to hear the 1997 Fillmore concerts – I flew from Japan to the United States for the very first time to see your shows. I went to three shows (January 31st, February 1st and 2nd), and I remember Roger McGuinn joining the stage for the first two days. Do you have any memories about those nights?
I LOVED those shows. Very free and inspired. The band was able to get really tight playing night after night there for so long. And we were able to be free to do more covers and deep tracks. My best memory is playing there on my birthday… it was the best of all the nights and everyone played beyond the beyond.
A lot of people must have made tons of requests about selection of the songs and/or takes. What did they say? Do you have plans to release "The Live Anthology Part 2" for the tracks that barely did not made it to the album?
There are few if any "left over" tracks. We did our best to include all the best performances. so I doubt there will be a "part 2". However, We DO intend someday to put out the best of the Fillmore run as a special release….. there are so many great performances in there, that the deserve to stand on their own.
Do you plan to release particular concert(s) in its entirety as live albums? We heard that you referred to a possibility of releasing the Fillmore shows on your interview with an Italian magazine.
Yup
2 New Album "Mojo" / Tour
How long did the band spent on recording the new album? Was the recording process elaborate or swift?
The new album "MOJO" was done over a few months… allowing for writing time. It was recorded relatively quickly… live in our warehouse… little or no over dubs.
The band's website states "Mojo" as "the sound of a band making some of its most exhilarating music". Could you share us your further impressions of the album? What are the album's highlights?
We had a great time, because we were performing LIVE… with no headphones. So, the whole group was really listening and reacting to each other instantly. Many of the vocals and all the guitar solos were spontaneous. Two of the highlights for me were "First Flash of Freedom" and "Good Enough"…. both of those songs have extended guitar sections like we have never done before, and capture the band at its best.
Does the new album contain songs composed by you (or you with Tom)?
There are three co-written songs… "First Flash of Freedom", "Good Enough", and "I Should Have Known It".
How do you feel about the upcoming summer tour? Are there special things that you do in prior to the touring?
I'm anticipating our best tour ever…. prior to the tour I will probably sleep a lot!!!
How many new songs would you want to play for the summer tour?
Many fans, including us, would love to hear new songs as well as tunes that have not been played for a while in recent shows. How are the set lists decided ? does Tom make the decision, or is it more of a democratic process? If possible, could you take our comments into considerations?
Ultimately, Tom makes the final decision on the set list… and as the singer, it's best that way… naturally we all put in our 2 cents…. (I put in five cents!! ) Tom told me that he wants to do a show with some hits at the beginning, then a large chunk of the new album in the middle, then some hits at the end… this is exactly what I would love.
Tom recently talks in his interviews about his emphasis to recordings rather than touring. Do you agree with him on this topic? If not, what would be your short- to mid-term goals for your career?
Well, recordings last forever as a piece of art… whereas a live performance is in the moment, then gone… so in many ways your legacy is the recordings you leave behind. For that reason we take great care and devotion to the recordings. I agree with him, and we both still love to play live. In many ways, playing live creates the inspiration for what you play in the studio, so both are essential.
3 Guitars
Do you remember what guitars you had used for the original Mudcrutch?
Well, for a time, the Guyatone was all I had… then later I got Gibson Firebird… then a Fender Stratocaster.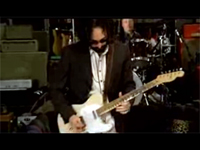 For the Mudcrutch reunion tour, you stuck to a single guitar, in particular, a blue telecaster with a string bender. What were your policies for using that guitar?
It was white, not blue… I used it exclusively, as Tom suggested, it would give the album an identity. Also, it was the only guitar I had with a "string bender" which gives a bit of a steel guitar sound.
Your 12-string Rickenbacker guitars apparently have high octave strings below the original octave strings. This configuration is different from the original ? do you remember when you had started this, and for what reason?
It's simply the way it was when I bought it. I didn't know any difference really. Later on I realized it, and now have another one strung the other way for a slightly different ring.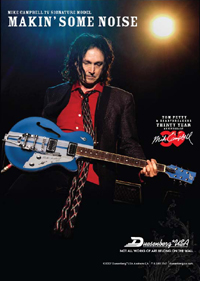 How did Duesenberg bring your custom guitar offer for you? How did you feel about it, and what were your requests for the guitar?
Nathan from Duesenburg brought the guitar to a gig, and I liked it the way it was, so I did the endorsement with him. I like the guitar, and I am proud when I see other artists using it.
Are you interested in having other guitar brands make your guitars? For example, Fender Custom Shop has been very eager to restore signature guitars for various artists, such as Eric Clapton and David Gilmour. We are wondering if they would offer you to make your relic Broadcaster.
Never gave it a thought.
Is Alan "Bugs" Weidel still in charge for your guitars? He is quite famous among many fans, and some desperately wish to speak to him in person. Could you tell us more about him?
Bugs has been with us since day one. He is a one of a kind guy; very down to earth and loyal to the band. He keeps the other roadies under control.
Have you been hunting for particular guitar(s)? What makes you decide to buy a guitar ? are there certain standards for the decision?
Lately I have not been looking… I hardly have room for another guitar in my house right now, and I have pretty much all the ones I ever wanted. When I DO shop… it is for vintage from the 60s and earlier.
4 In-depth
Tom often refers to Elvis as his childhood hero. Did you have any childhood heroes? Do you have any childhood memories of going to concerts?
Elvis would be one of mine as well…. and Johnny Cash… those were the records my Dad played around the house when I was a kid. Of course, I always focused on the guitar players (Scotty Moore and Luther Perkins). But there are so many from that time that are my heroes…. George Harrison, Keith Richards, Jimi Hendrix, Jimmy Page, Mike Bloomfield… it was an amazing time to be learning guitar from so many innovators.
What are your current interests, music-wise and non-music-wise? Did you have any recent records that you particularly enjoyed?
I tend to not gravitate toward new records much… I always end up listening to older stuff… J.J. Cale, Howlin' Wolf, etc… Too much of the music today sounds the same to me…. nothing jumps out like in the 60s. I like a band called Tinariwen…… from Mali….. they are pretty cool.
Could you name five Heartbreakers tracks that are valuable to you?
American Girl
Refugee
Here Comes My Girl
Runnin' Down a Dream
The Waiting
We have always loved not only your band performance but also your collaborations with various artists. Could you also name five sessions that you are especially proud of?
Don Henley … "Boys of Summer" and "Heart Of The Matter"
Johnny Cash …  the Rick Rubin recordings
Taj Mahal … "Lovin' In My Baby's Arms"
The Wallflowers … "6th Avenue Heartache"
Bad Religion … Hills of LA("Los Angeles Is Burning")
Furthermore, could you tell us five guitars that have been important your career?
Fender Broadcaster
Rickenbacker 12 string
Gibson Gold Top Les Paul
Gretsch Clipper
Gibson 59 Sunburst Les Paul
5 Miscellaneous
How do you spend your time when you are not on tour or recording? Do you meet with Tom or the Heartbreakers on such occasions?
The Heartbreakers don't socialize much outside of work… occasionally we might hang out on NEW YEARS EVE. That's part of the reason we still like each other!!
I tend to write all the time and record in my home studio. I also play small venues with my band THE DIRTY KNOBS. My family is important to me and I spend my time with them.
Who decides the band's stage outfits? If so, are there certain rules within the band for them? What are your personal fashion preferences?
We just wear what we wear… self-styled if you wanna call it that… we aren't hung up on fashion long as no one shows up in a tutu.
Many fans were surprised by your dramatic hair style change a few years ago. What was the reason for the change? How did the band members respond to you?
I assume you mean my so called "dreads"? It's no big deal… I just quit brushing my hair one year and that's what happened… I like it because it is low maintenance.
What changes had Mudcrutch reunion brought to you, in terms of guitar playing and spirituality? Would you like to have another reunion album and/or tour?
It was great to reconnect with our old friends and make a fun record that people seem to really like… and time permitting, we would love to do another one. Playing guitar with my old band mate Tom Leadon was inspiring… we like to teach each other things.
Do you plan to expand the Dirty Knobs' activities outside of California? Do you plan to record an album? Would you be willing to tour Japan if someone offered you?
The Dirty Knobs are the world's best kept little secret!! It's a really good band and the guys are way cool… no egos and amazing players. I wouldn't feel comfortable promoting them in a big way as long as the Heartbreakers are together and working so much…. and they understand that, so we play when we can and have a great time. It gives me a great opportunity to try out new material on a live audience that sometimes finds its way into the Heartbreakers songs.
You had visit Japan twice; in 1980 and in 1986 (with Bob Dylan). Do you remember anything about the trips? What are your current impressions about the country?
I love Japan… my step mom is from Okinawa also. I remember the kindness and enthusiasm of all the fans there… and the fascinating culture. I hope we can go there again…
Could you give us messages for the long-awaited Japanese fans?
Thank you for listening… we love you all.
---
April 1, 2010 
Interview : Jun / TOSHI / Mayu
---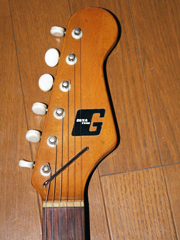 Mike and "Guya" guitar
We are absolutely honored and thrilled to publish our interview with Mike Campbell. Our dream-like wish incredibly became a reality through a "Guya" guitar, and here is how it came about.
In various interviews, Mike often talked about his very first guitar, a $60 guitar Goya from Okinawa. After thorough analysis by one of our staff (TOSHI), however, we hypothesized it may not have been a "Goya", but a Japanese vintage "Guya" guitar, made by Guyatone.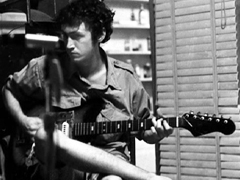 TOSHI insisted that we would like to hand the guitar to Mike himself, and other staffs were in complete agreement. This conversation's timing was right before his 60th birthday (February 1), so we decided to send a Guyatone LG-130T, apparently very identical to his very first guitar, as his birthday present.
It was not simple to internationally send an electric guitar, so we have to confess we were not able to send it before his birthday. Nonetheless, the guitar made it to the United States about one week after the day. First of all, it was a big relief that the guitar made it overseas.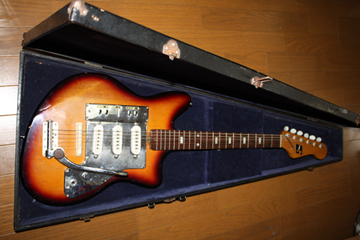 After that, it was our miracle moments… we were told that Mike had received the guitar and that he LOVED it!
To tell the truth, we recklessly offered for an interview when sending our guitar. We knew it was way too much of a favor, but through years of owning a TP&HB fan site, we had a true wish of sending the actual voices of TP&HB to the Japanese fans. Mike graciously accepted our interview offer, so here it is!
We all have full-time jobs, and are by no means professional interviewers. We had very limited time to prepare the questions, and there are limitations to e-mail interview format. Still, we believe we tried our best as fans/fan site of Mike and TP&HB. We dearly wish you will enjoy our interview.
We are absolutely grateful to Mike for kindly accepting our requests. THANK YOU SO MUCH!