Benmont Tench
Hey y'all. First off, I want to thank everybody for the beautiful messages of love and support. Everybody has been so kind. It means a lot. I guess we can & should all just lean on each other through this. Weeks ago, before the Hollywood Bowl shows, I had planned a solo show of my own for October 28th at Largo. 
After what's happened, I thought hard about whether to go ahead with it, was it right, is it too soon, am I even in a frame of mind to do it. Well, I'm going ahead. You don't stop playing music on any account, for any reason, and especially when faced with such enormous loss. You play more, louder, quieter, faster, slower, sad, joyous, angry, celebratory, lovingly. So I'm gonna get my Steinway down to Largo on October 28th and play a bunch of my songs, just me & that piano. 
This is not going to be any kind of a tribute to Tom — that tribute is taking place in my heart, for now; it's too private, it's between me & Tom & the great whatever-there-is. But pretty much anything I've played since I was 17 or 18 years old has some kinda Tom to it, so maybe it's all a kind of tribute, in a way. Hope to see you there, and wherever you are… well, you know the rest. 
With love & thanks, Benmont
(10月14日、Instagramより)
まず何より、愛情と励ましの込められた優しいメッセージを寄せてくれて、ありがとう。みなさん、とても親切で、それはとても大きなことです。これを乗り越えるために、私たちはお互いよりかかり合えるし、そうするべきだと思います。
ハリウッド・ボウルのショウの数週間前に、10月28日に Largo で自分のソロショウを行うことを計画していました。このようなことになり、これを続けるべきか、それが正しいのか、早すぎるのか、そもそもそれが出来る気持ちの状態にあるのか、深く考えました。
その結果、前に進むことにしました。どんな理由があっても音楽を演奏することを止めるべきではないし、これほど途轍もない喪失を体験した後は特にそうだと思いました。より多く、大きく、静かに、早く、遅く、悲しく、嬉しく、怒り、喜び、愛しく演奏します。だから、10月28日に私の Steinway を Largo に運び、私の曲をたくさん演奏します、私とピアノだけです。
これは、Tom へのトリビュートの類では全くありません。今のところ、それは私の心の奥深くにあります。あまりにもプライベートなことですし、それは Tom と私との間にあるものだからです。でも、17歳か18歳から、私が演奏してきたもののほぼ全ては、Tom の何かが含まれています。だから、そういう意味では(演奏)全てがトリビュートの類なのかもしれません。
みなさんとそこで会えることを楽しみにしています。みなさんがどこにいても… 後のセリフはみなさんも知っていますよね。
愛、感謝とともに。
Steve Ferrone

The Hollywood Bowl sticks. I kept them for me this time. Beaten up, but not broken. Just like The Heartbreakers and our crew. Thinking of Tom Petty and The Heartbreakers with Love, and Gratitude for 25 years of great music this month. RIP my friend.
(ボロボロになったスティックの写真とともに)
ハリウッド・ボウルで使ったスティック。今回は自分のために取っておくことにしました。打ちひしがれたが、折れてはいません。(スティックの状態にかけている。)Heartbreakers もクルーもそうです。
今月で25年となる TP&HB を、愛情、敬意とともに思っています。友よ、安らかに。
AnnaKim Violette Petty
Thomas Earl Petty lived a million lifetimes in one. He over came much psychic pain from an abusive childhood by transforming his anger into the greatest rock n roll band ever. My dad in the past openly overcame a crippling drug problem with no shame. His recent death is tragic yet he died from doing what he loved and what will continue to keep his spirit alive. Touring with a broken hip because he would have it no other way. He loved performing. There are no hypothetical questions I love my dad and feel he is an immortal badass. The amount of pain his hip caused was beyond a normal surgery. He is at peace out of pain. I thank you for respecting my family's privacy and inviting love during this shocking new chapter. My dad loved his life and left behind so much love in his music for us to share. Invite love listen to Tom Petty. He passed away with his family in a room filled with love. I feel very connected to him. Give love to everyone you meet we are connected by love
#invitelove much love to you and much love to u dad
(2018年1月20日、Instagramより)
Thomas Earl Petty は1度で100万回分の人生を生きました。虐待を受けた小児期の心の痛みを乗り越え、自身の怒りを史上最高のロックンロール・バンドに変身させました。かつて、父は恥じることなく、深刻なドラッグの問題を乗り越えたことを公言しました。最近の彼の死は悲劇ですが、彼は好きなことをやり、彼の魂を生かし続けるために亡くなったのです。股関節が折れたままでツアーしたのは、他に方法はなかったからです。彼は演奏が大好きでした。仮定の質問には答えられません、私は父を愛していて、不死身のカッコ良い人だと思っています。彼の股関節からの痛みは、通常の手術とは比べ物にならないものでした。彼は痛みから解放されて安らかになりました。このショッキングな新しい章に際して、私たち家族のプライバシーを尊重し、愛情を注いでくれてありがとうございます。父は人生を楽しみ、人々に分かち合うために音楽に沢山の愛情を加えて残してくれました。Tom Pettyを聴いて、愛を呼び込みましょう。彼は、愛情に満ちた部屋で、家族に見守られて永眠しました。私は彼との強いつながりを感じています。みなさんも、会う人すべてに愛を与えてください、私たちは愛でつながっているんです。
Bruce Petty
Our family wants to thank everyone who has kept us in their thoughts and prayers during this difficult time. Myself, along with my wife, our children and grandchildren are appreciative and strengthened through the hundreds of messages that have been flooding in. Tom was a remarkable and loving brother. He was so very loved by his family, friends and fans. We are requesting that in lieu of flowers, donations be made to The American Red Cross disaster relief fund.
(10月4日、Tallahassee Democrat)
この困難な時に、私たちに思いと祈りを寄せてくれた全ての人々に、家族として感謝致します。私、妻、子と孫たちは、押し寄せる何百ものメッセージに感謝し、勇気づけられました。Tomは素晴らしい、そして愛しい兄でした。彼は家族、友人、ファンにとても愛されていました。お花を贈る代わりに、アメリカ赤十字社の災害救援基金へのご寄付をご検討くださいますようお願い申し上げます。
※フロリダ州タラハッシー在住の Tom の弟。彼は Tom の生前はメディアにほとんど登場しませんでしたが、兄の死を受けて10月4日に地元紙 Tallahassee Democrat に 声明を寄せました。
Bob Dylan
It's shocking, crushing news. I thought the world of Tom. He was a great performer, full of the light, a friend, and I'll never forget him.
ショッキングで衝撃的なニュースだ。Tom の世界を考えていました。彼は素晴らしいパフォーマーで、光に満ちていて、友達で、私は彼のことを絶対忘れません。
※10月21日、コロラド州ブルームフィールド公演、アンコールの最後に"Learning To Fly"を演奏。
Bruce Springsteen
Down here on E Street, we're devastated and heartbroken over the death of Tom Petty. Our hearts go out to his family and bandmates. I've always felt a deep kinship with his music. A great songwriter and performer, whenever we saw each other, it was like running into a long lost brother. Our world will be a sadder place without him.
ここ E Street では、Tom Petty の死で打ちのめされ、心を痛めています。彼の家族とバンドに思いを捧げます。彼の音楽には、いつも深い親近感を感じていました。
素晴らしいソングライターでパフォーマーで、二人で会うたびに、連絡が絶えていた兄弟に会うような気持ちでした。彼がいなくて、我々の世界は悲しい場所になります。
Roger McGuinn
Before there were books, music recorded our history. Tom Petty was a historian. He didn't just write songs. He wrote about the stories, people, and cultures of our times and then he put it all to music. 
When he wrote a song, he flew up to the great wide open, caught an idea and would come free falling back to earth. Then he did it again. I know, I had the privilege of writing with him once. 
His songs are movies for our imaginations and longer than 4 words. His every verse a diamond and every chorus gold. His music will always be with me and all of us.
本が存在する前、歴史を記録したのは音楽でした。Tom Petty は歴史家でした。彼は曲を書いただけではありませんでした。彼は物語、人々、我々の時代の文化について書き、それをすべて音楽にしたのでした。
彼が曲を書くとき、彼は青空(great wide open)に飛び上がり、アイディアをつかみ、地上に自由落下(free falling)したのです。そして彼はそれを繰り返しました。私は、彼と曲を一度書いたことがあったから、知っているのです。
彼の曲は我々の想像のための映画であり、四文字より長いものでした。彼のすべてのメロディーはダイヤモンドで、すべてのコーラスはゴールドでした("Walls"の歌詞を引用)。彼の音楽はいつも私の、そしてすべての人々のもとにあります。
Jeff Lynne
Tom Petty was the coolest guy I ever knew.
Tom Petty は私が知る人のなかでもっともカッコいい奴でした。
Steve Winwood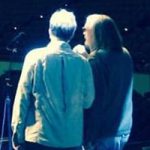 Tom Petty was a gentleman. I had the pleasure and privilege of doing two tours with him. During that time, I got to see what a brilliant songwriter and musician he is, and how much he is loved by millions around the world. My prayers are with Tom's family and loved ones. He will be missed by so many of us who have been touched by his music.
Tom Petty は紳士でした。私は彼と二回ツアーする喜びと名誉を得ました。そのとき、私は彼がいかに聡明なソングライターでミュージシャンであり、世界中の何百万人もの人にいかに愛されているかを見ました。Tom のご家族とご親族にご冥福をお祈りします。彼の音楽に触れた、とても多くの人々に惜しまれることでしょう。
Neil Young
Rest In Peace Tom – Tom, I'm sure you heard how great your last show was. Everyone was talking about your happiness and the band's happiness to be with you on that stage. Those chords are still ringing around the world. You have been such a great force, a tremendous contribution to music and the feelings people will hold in their hearts forever when they hear you everywhere.
Peace Brother
Tom、安らかに眠ってください。Tom、あなたの最後のショウがどんなに素晴らしかったか、聞いたはずです。あなたの幸せ、あなたと一緒にいるバンドの喜びについて、みんなが話していました。そのときの和音は、世界中で鳴り続けています。
あなたは常に大きな力であり、音楽に多大な貢献をし、人々があなたの音楽をどこで聴いても永遠に心にとどめる感情でした。仲間よ、さらば。
Paul McCartney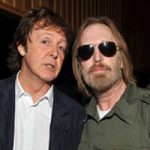 Dear Tom, so sad to hear of his passing. What a lovely, intelligent and talented man he was. Love to his family.
親愛なる Tom へ、彼の訃報を聞いて悲しいです。彼は、なんとも愛しく、賢く、才能豊かだったことでしょう。彼のご家族にお悔やみ申し上げます。
Ringo Starr
God bless Tom Petty peace and love to his family I'm sure going to miss you Tom
Tom Petty に神のご加護を。彼のご家族に平和と愛が訪れますように。確実に君のことを寂しく思うよ、Tom。
George Harrison
(Olivia and Dhani Harrison)
Tom was a tender southern gent in life, a poet and a music master on stage. He had a rocking chair wisdom that brought everything back down to earth. We will love and miss him for the rest of our days. Our thoughts are with his family and all the Heartbreakers.
Tom はやさしい南部紳士で、詩人で、ステージ上では音楽の大家でした。彼は、みんなを地に足をつけるための、ロッキングチェアからの知恵を持っていました。我々は生きる限り、彼のことを愛し続け、寂しく思うことでしょう。彼のご家族、Heartbreakers のことを思っています。
Dhani Harrison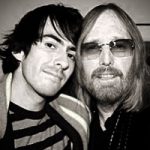 Thank you dear Tommy for always being there for me. You got me through some of the hardest moments of my life. See you on the other side. I love you, bless.
They're my family, and they've always really looked after me, ever since my father passed away," Harrison says. "Yeah, my heart's broken. It's tremendously sad and absolutely heartbreaking. He's one of my best mates. It hasn't hit me yet how much I'm going to miss him. We were all so close and as families we hung out, the Harrisons on the Pettys. They've been neighbors and my friends, my family, so it's a huge loss… I think in my community and in my life I definitely haven't felt any loss like this since my dad.
彼ら(Petty 家)は僕の家族でした。父が亡くなってから、彼らはいつも僕のことを気にかけてくれていました。そうなんです、心が痛みます。途轍もなく悲しくて、心が張り裂けそうです。彼は僕の親友の一人でした。どのくらい寂しくなるのか、未だに実感していません。僕たちはいつも傍にいて、Harrison 家と Petty家で、家族同士の付き合いでした。隣人で、友人で、家族で…だから、これは大きな喪失です。父親以来、ここまでの喪失を経験したことは、僕の人付き合いの中でも人生の中でもありません。
Lucinda Williams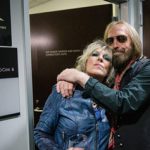 I have been heartbroken since I first heard the news. I couldn't believe it was real. It just couldn't be. It has taken me a week of tears to be able to sit down and write these words.
I first met Tom when I was opening some shows for him back in 1999. After a couple of shows he could see that the audience wasn't exactly being receptive and so one night, much to my surprise, he went out and introduced me before the show, telling the audience they needed to listen. That says so much about who he was – and who he was to me. We were on our way to becoming lifelong friends.
In the last couple of years he had asked me to be a part of his ASCAP Songwriters' Hall Of Fame induction and his MusicCares Person Of The Year Award this past February. And then to be included in these last three Hollywood Bowl shows was one of the highlights of my career. These were all gifts that he gave to me and I will never forget them.
My tears also fall for his wife Dana – and his entire family. They also fall for Benmont, Mike, Ron, Scott and Steve – also Tony D, Mark and all of his extended family, many of whom have been with him for nearly all of a truly amazing 40 year run.
Thank you Tom. You gave me and so many others so much. I will always consider it a blessing that I got to give you one last hug.
You were born a rebel and it's ok to go home now.
このニュースを聞いて以来、悲しみに打ちひしがれています。本当だとは信じられませんでしたし、あってはいけないことです。落ち着いてこの言葉を書けるようになるまでに、1週間もの涙を要しました。
Tom に最初に会ったのは1999年、彼のショウのオープニングを努めたときです。何回かのショウの後で聴衆が(私を)必ずしも受け入れていないのを彼は見たのでしょう、するとある夜、驚いたことにショウの前に彼が出てきて私のことを紹介してくれ、聴衆に「聴く必要があるよ」と言ったんです。彼がどういう人か、そして私にとってどういう人か、それがよく表しています。生涯の友となる始まりでした。
数年前には ASCAP Songwriters' Hall Of Fame の授賞式、そしてこの2月には MusicCares Person Of The Year Award の授賞式に、私のことを呼んでくれました。そして、ハリウッド・ボウルでの最後の3公演にご一緒させてもらうことは、私のキャリアのハイライトの一つでした。全ては彼が与えてくれた贈り物であり、私はそれを決して忘れません。
彼の妻 Dana、そして彼の家族のために涙を流しています。さらに、Benmont、Mike、Ron、Scott、Steve、そしてTony D(Tony Dimiatrides、マネージャー)、Mark、そして彼のファミリーにも涙を流しています。多くの人々は、この素晴らしい40年間のほぼ全てを、彼とともに歩んできました。
Tom、ありがとうございました。あなたは私に、そして多くの人々に、たくさんのことを与えてくれました。あなたと最後のハグが出来たことは、恵みであるといつも思っていきます。あなたは反逆者(rebel)として生まれました、今は家に帰ってもいいのですよ。
Joe Walsh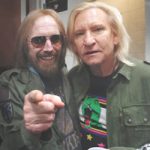 I am shocked and saddened to hear about Tom Petty, a dear friend and a great musician. It was wonderful touring with him this summer. My love and thoughts are with his family and all who loved him. He will be sorely missed.
親愛なる友人であり素晴らしいミュージシャンである Tom Petty のことを聞き、ショックを受けて悲しんでいます。この夏は一緒にツアーが出来て素晴らしかったです。彼のご家族、そして彼のことを愛していた全ての人にお悔やみ申し上げます。彼は強く惜しまれることでしょう。
Peter Wolf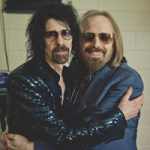 What an unbelievable loss. Tom worked very hard at everything he did and always with a deep passion and a great sense of dignity. He certainly carved his own way in the music biz while remaining one of the good guys.
I'll remember his warmth, generosity and sense of humor always. My deepest condolences to his beloved wife Dana, family, band mates and crew. RIP Tom, may you "ride down the king's highway."
あまりにも信じられない喪失です。Tomはすべての事に真剣に取組み、強い熱意と高い品格を持っていました。彼は、良い奴でありながらも、音楽業界に彼なりの方法を間違いなく刻みました。
私は彼の温かさ、優しさ、ユーモアのセンスをずっと忘れません。彼の最愛の妻 Dana、家族、バンドとスタッフのみなさんに、心よりお悔やみ申し上げます。Tom、どうぞ安らかに、君が王国のハイウェイを下っていきますように。
Hattie Webb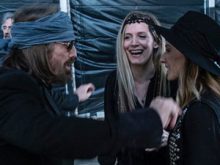 Charley and I are heartbroken at the loss of dearest Tom. An extraordinary and beautiful person in every way. Thank you @actennille, thank you all the TPHB family for the incredible memories and friendships which we cherish.
Charley と私は、大切な Tom の訃報を心から悲しんでいます。あらゆる面において非凡で美しい人でした。
大切な信じられないような思い出と友情をくださって… ありがとう、@actennille(ツアーカメラマン Andy Tennille)、ありがとう、すべての TP&HB ファミリー。
John Fogerty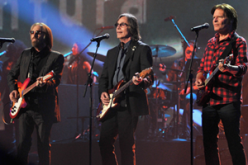 Tom's music means the world to me and my wife, Julie, in fact, he is her all time favorite artist. We open our show in Vegas with "I Won't Back Down" … beyond sad to hear of my friend's passing.
私と妻 Julie にとって、Tom の音楽は世界を意味していました。実際、彼女がもっとも好きなアーティストは彼でした。私たちはラスベガスのショウを"I Won't Back Down"で始めます… 友達の訃報を聞くことほど悲しいことはありません。
Lenny Kravitz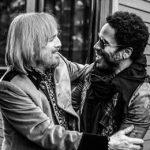 I am so saddened by the news of Tom Petty's death. Beside being a genius musician and songwriter, he was the sweetest of human beings. In 1989, when Let Love Rule was released, he was the first person to believe in me, and took me on my first tour as his opening act. His belief in me is a gift that I will always cherish. 
He also taught me about collecting vintage guitars, which became a passion of mine. In each town we toured, we would go to music shops where I would watch him buy the most beautiful pieces. He was always fun, light hearted, and humble. 
Rest on brother. You did your thing to the maximum.
John Densmore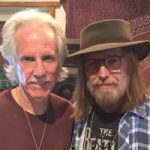 I am in shock, as a superb song writing craftsman has crossed over. Tom Petty has joined his fellow Wilbury's – Roy (Orbison) & George (Harrison)… they're rockin' the heavens…
Warren Haynes
RIP Tom Petty- Man, am I tired of doing this? Here I am again trying to express a sense of loss, with words, which is hard enough to do without the depressingly uncanny frequency of major losses we've suffered this year- and it's barely October.
Tom Petty was a great songwriter. If he'd written only a handful of the classic songs we've all known and loved through the years this would still be the case. But he defied history. He did what so few can do- he kept up the pace for over 40 years and as great as the songs from the early albums were he actually continued to get better and better, composing a lot of his best works later in his career. And he kept them coming. 
I remember commenting during a short tour we did together with the Allman Brothers and the Heartbreakers that they had so many hits they couldn't fit them all into one show. And not just hits. The kind of hits that "everybody" likes. Casual fans, rockers, musicians, singer-songwriters, male and female- across the board. Everybody loves Tom Petty & the Heartbreakers. And for good reason. 
I can remember in different stages of my life, (going all the way back to 1976 when I first heard them) no matter where my head was- if I was going through a blues phase, or a jazz phase, or a folky phase, or a funk phase- anytime I would hear a new Tom Petty song on the radio it was like "damn, that's a good song". And like all great bands from the 60's and 70's the Heartbreakers had a sound. You knew it was them as soon as you heard it. Evolving and adapting but never straying too far from that sound, they somehow managed to navigate their way through 4 decades of an ever-changing music business- a feat unto itself. 
But Tom Petty was also a true artist in the way that he fought for the right to deliver his music uncompromised and his well known disputes with the corporate side of the music industry helped pave the way for other artists to do the same. I still remember his battle to keep the record company from raising the price on Hard Promises because it would be unfair to the fans. Reading about that as a 21 year-old kid inspired me to be conscious of those kind of things. I also remember hearing a story (assuming it's true) of how he would find the person with the worst seat in any venue they were performing in and have them moved down front- another classy act. 
I barely knew Tom. We did a handful of shows together. But I was a big fan before I met him and a bigger one afterwards. I'm honored to have played together what little we did. The world needs more Tom Petty's. Unfortunately there was only one. And now he's gone. May we all "stand our ground" and "not back down".
John Mayer
I loved Tom Petty and I covered his songs because I wanted know what it felt like to fly. "you belong somewhere you feel free."
Tom Petty. One of the high priests of the Sonic Church of California. He wasn't born there, but he planted so many songs there, it's where his music takes place in my mind. Musically speaking, California is a repository for dreams. Every great song and artist associated with it adds a patch to that sun-faded tapestry. The songs spark these visions, some of them memories, and some of them just seen for the first time in the music and revisited throughout the years.
Petty was a major architect of the spirit that makes musicians want to flock to California and write their songs and live the life that both authors them and is authored by them. Growing up a kid in suburban Connecticut in the late '80s, Tom Petty's music was the only thing like it, both on the radio and on MTV. 
He made me believe in two things: that songwriting was everything, and that California must have felt like his music sounded. It did. And it always will. Musicians leave behind much more than records. They leave with us a shared dream space. A place we can continue to visit, even if after its creator is gone. 
Tom Petty's California is my favorite California. It's the one he painted both photo-real and abstract. It's the one, like his music always portrayed, that straddles the dichotomy between proletariat and paradise; somewhere between the power lines and the palm trees, between Reseda and Malibu, between restlessness and ecstatic love. A legend reaches the other side. Rest In Peace
Paul Stanley
No! We have lost Tom Petty. From our opening act in the seventies to becoming a brilliant songwriter and performer I have loved his music.
Peter Gabriel
Very sad to say goodbye to Tom Petty, he was a kind and generous man, an excellent musician and writer and we had daughters who have grown up together since their friendship at Sarah Lawrence College.
Tom Petty にお別れを言わなければいけないのはとても悲しいことです。彼は親切で優しい人で、最高のミュージシャンで作曲家です。そして我々には、サラ・ローレンス大学(ニューヨークにある私立大学)で友達となって成長していった娘たちがいます。